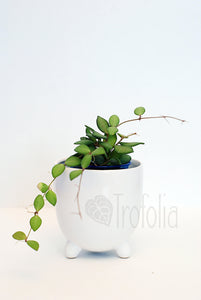 Photo is for reference only. Plant offered is smaller than plant pictured. Fits a 2.5-3" pot, 12 leaves minimum. Plant arrives bare root with sphagnum moss.
Fun fact: This Hoya is properly named sp. aff. burtoniae. Decades ago a name mix-up occurred and it has been misidentified as Tsangii ever since. It is a beautiful Hoya with its soft textured, pastel-toned leaves. With high levels of light, the leaves' margins will blush a purple hue.
*Only sold within Canada.